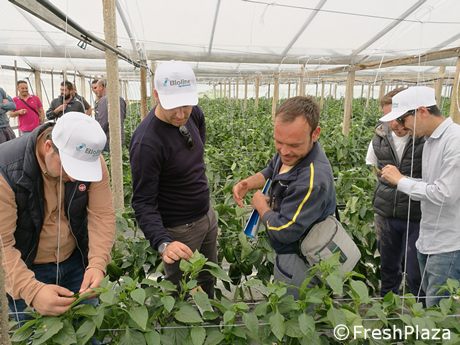 About Bioline AgroSciences
Bioline AgroSciences produces and markets a wide range of invertebrate biological control organisms which are used for control of insect pests in a variety of crops. We are a global company, active in 30 different countries, with particular strength in Europe and North America.
Our primary target crops are protected vegetables, ornamentals, soft fruits, and berries. At Bioline AgroSciences we pride ourselves on providing the highest quality products and service in order to support growers in maintaining yield and quality of their produce.
Timeline
The original legacy company of Bioline AgroSciences Ltd was founded in 1979 in Colchester, England. In 1990 another production and distribution site was opened in California, United States. The company was purchased by Ciba-Geigy AG in December 1992 and became a wholly owned subsidiary in 1995.
After the merger of Ciba and Sandoz in 1996, the company became known as Novartis BCM Limited. In 1999, a new site in Little Clacton, England was purchased and customized for insect production to cope with the increase in demand for beneficial insects. In November 2000, Novartis spun off its agricultural business to merge with Zeneca Agrochemicals to form Syngenta. Novartis BCM became known as Syngenta Bioline in January 2001.
In the meantime, Biotop was created in the 80's, following a partnership with the French National Institute of Research (INRA) which started in the 70's. Biotop developed then a full range of products for professional users, but also settled up a special range of beneficials for hobby gardeners.
In March 2016 the Bioline business was acquired by InVivo and Bioline AgroSciences was born with the merge with Biotop.
In January 2019, Bioline Agrosciences and Biocolor created a joint-venture in Almeria, Spain, called Bioline Iberia.
In may 2019, Bioline Iberia was officially inaugurated with the presence of all the representatives of the region.
The doors open in January 2010 for the new Bio factory located in Camarillo, CA.
Our Mission:
Our mission is to be the preferred global provider of integrated crop management solutions.
Supporting growers to maintain their yields and quality, by providing innovative tools for sustainable agriculture
Providing the highest quality products and technical advice, for use in Integrated Crop Management
Giving all of our customers an unrivaled service and the highest standards of support
Working with a network of closely allied distributors to ensure that we are a truly global company
Investing in our people, because their knowledge is the key to our future